Staff
Our dedicated staff are here to provide support, compassion, and information to help you through your journey of grief and the celebration of your loved one's life.


W. Peter Templeton
Funeral Director/Owner
Pete Templeton grew up in Paris. He attended Mayo Middle School and graduated from Paris High School. He is the son of Sandra (Wright) Templeton and the late Robert J. Templeton, both of whom were teachers in the District 95 schools. Pete married the former Angel Littleton of Paris in 1998, and they are the parents of three sons, Will ('05), Graham ('07), and Drew ('08).

His career in funeral service began as a summer job at the age of sixteen. A high school teacher introduced Pete to Chet and King Sutton and a friendship quickly formed. Time spent mowing and washing cars gave way to serving families, assisting on services, and the discovery of a life's calling. Working in funeral service from an early age has fostered a diversity of experiences, a deep respect for families in grief, and the development of many, many lasting friendships.

Pete earned a Bachelors Degree in Management from Indiana State University and an Associate of Applied Science in Funeral Service from Pierce Mortuary Colleges. He is proud and grateful to have served Edgar County as Coroner from 2004 - 2016.

Today, Pete finds great reward in making people comfortable during difficult times. He strives to serve with respect, sincerity, honesty, and occasionally, some humor.
PROFESSIONAL LICENSURE
Illinois Licensed Funeral Director & Embalmer
Indiana Licensed Funeral Director & Embalmer
Illinois Licensed Life Insurance Producer
Coroner of Edgar County, 2004 - 2016
MEMBERSHIPS & COMMUNITY INVOLVEMENT
First Christian Church (Disciples of Christ)

Former Deacon, Elder, and Board Chairman
Former Youth Fellowship leader

Paris Lodge #268 Ancient Free & Accepted Masons

Past Master
Current Secretary

Prairie Lodge #77 Ancient Free & Accepted Masons
Stratton Lodge #408 A.F. & A.M.
Kansas Lodge #280 A.F. & A.M.
Marshall Lodge #133 A.F. & A.M.
Edgar County Shrine Club
Ansar Shrine Temple
Kiwanis Club of Paris
Paris Economic Development Corporation (PEDCO)
City of Paris Board of Fire & Police Commissioners
United Way of Edgar County

Past Campaign Chairman
Past Board President

Paris Municipal Band

Board of Directors and Band Member

Illinois Coroners & Medical Examiners Association
Indiana State University Alumni Association Edgar County Chapter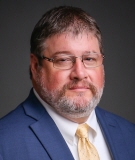 Mark T. Anderson
Funeral Director
Mark Anderson was born and raised in Paris. He attended Crestwood School and graduated from Paris High School. He is the son of Thomas and Susie (Babb) Anderson. Mark married the former Amy Tessman of Paris in 1991, and they are the parents of two grown children, Bailey ('93), and Cameron ('98).
Mark is a 1989 graduate of Southern Illinois University at Carbondale. He brings over thirty years of experience serving families in times of loss.
Mark's professionalism, sincerity, and thoughtfulness make him an asset to funeral service and an integral part of our firm.
Professional Licensure:
Illinois Licensed Funeral Director & Embalmer
Memberships & Community Involvement:
St. Mary's Catholic Church

Paris Honeybee Antique Association

Paris Township Board of Directors

Former Edgar County Ambulance Board of Directors

Cub Scouts Leader many years